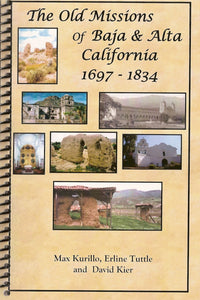 10-26002 Old Missions of Baja and Alta California - 2nd Edition January 2013
10-26002
A Perfect book for the traveler who wants the basic information on the missions, this one fits all the missions. A chronological founding of the Jesuit, Franciscan, and Dominican missions as can be seen in today's travels. A concise account of the story of the California missions which takes the reader back to a challenging frontier without borders and clarifies the interlocking history of the missions of Baja California and Alta California. Over 160 pictures. Book is no longer in print.

2nd Edition January 2013
Spiral-bound soft cover: 144 pages
ISBN: 978-1-467547642
Publisher: M&E BOOKS
Language: English
Condition: New

Note from the Author
This was the first historical account of the actual way the California missions were founded. Other books ignore or barely mention that the Alta California Missions were part of the same mission program as the ones in Baja or Old California. They even forget to mention Junipero Serra founded his first California mission in Baja California, not San Diego (which was the 19th California mission, not the first)!

ABOUT THE AUTHOR
Max Kurillo has been researching, writing, and lecturing about the California missions for many decades and has published several books, articles, and booklets about the missions. He worked with and appeared with Huell Howser on the California Gold production of "The Bells of El Camino Real," and appeared on KECT (Los Angeles) and KPBS (San Diego) with Howser discussing the mission bells. Kurillo has visited all the 48 missions in Baja and Alta California. He won the Native Daughters of the Gold West "California Image Award" for his work documenting El Camino Real. He has published in the Ventura County Historical Society Quarterly, Pacific Coast Archaeological Society Quarterly, the American Bell Association's Bell Tower, and the California Missions Foundation's Boletín. California State Parks featured a panel display entitled "California Historic Corridor" based on his work and photographs. Kurillo lives in the San Diego area.
---
We Also Recommend