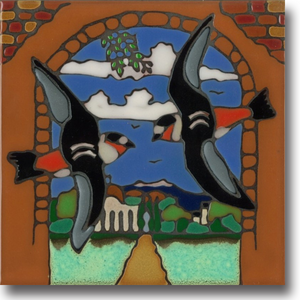 10-10023 California Mission Tile - 6" x 6" - Capistrano Swallow
10-10023
Square ceramic tile with an original image of a Mission San Juan Capistrano Swallow.
These 6" x 6" ceramic tiles are all original art designs which are individually hand painted then kiln "fired" to 1800 degrees until the vivid, jewel-like colors emerge. These American made, hand crafted original art tiles have a hardboard backing making them suitable as a kitchen tile trivet or original wall art. With the backing removed, several of them can be combined together to form a tile mosaic for use as a back splash.
The swallow is a symbol of the miracle of the Swallows of Capistrano which takes place each year on March 19 (St. Joseph's Day) at Mission San Juan Capistrano. Swallows migrate 6,000 miles from Goya, Argentina to San Juan Capistrano in large groups.  The town of San Juan Capistrano welcomes visitors from all parts of the world to witness the return of the swallows, a tradition that has been celebrated since the early 1930s.
---
We Also Recommend